Member of European Parliament Anna Fotyga's requested immediate debate regarding Mikheil Saakashvili's health condition, supported by fellow Members of EU Parliament was held and the MEPs talked about the health condition of the former president of Georgia.
(more)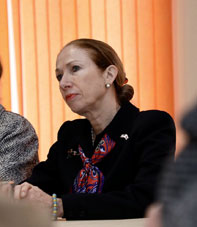 US Ambassador to Georgia Kelly Degnan in response to a question about Mikheil Saakashvili's health condition, told reporters that the US government is concerned over Saakashvili's situation which she assessed as 'serious'.
(more)
"MFA of Ukraine Demands Mikheil Saakashvili's Transfer to Ukraine"
(more)
The dispute over the implementation of the 12 points of the European Union became another reason for the polarization between the government and the opposition, which is one of the main points to overcome in the conditions put forward by the European Union.
(more)