Tbilisi City Court judge Giorgi Arevadze did not satisfy the request for the postponement of the sentence or release of Mikheil Saakashvili. Lawyer Shalva Khachapuridze is planning to appeal to Strasbourg in the near future.
(more)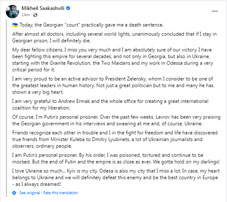 Mikheil Saakashvili responded to the court's decision denying him of postponement or release of the sentence with a letter from the "Vivamed" clinic, saying that he has received a 'death sentence' and will remain in prison with the fatal diseases and that no one in the world except Russia recognizes the court's decision.
(more)
"EU Calls on Georgia to Join Sanctions Imposed on Russia in Aviation sector, Peter Stano Says"
(more)
The opposition part of the political spectrum in Georgia, which acts as a defender of the western direction of the country, is in a difficult situation.
(more)