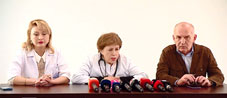 Vivamed doctor Tamar Davarashvili spoke about Mikheil Saakashvili's health condition at the press conference held in the clinic.
(more)

Mikheil Saakashvili responded to the press conference held by the doctors at Vivamed clinic, where he is undergoing medical treatment and accused the clinic of taking part in a 'special operation' to kill him.
(more)
"Georgia's Economic Dependence on Russia Increased in 2022, TI Reports"
(more)
The party People's Power submitted a draft law on the detection of 'foreign agents' to the legislative body.
(more)