The News in Brief
Monday, March 13, 2023
Prepared by Messenger Staff
President Salome Zourabichvili Meets with National Security Advisor of United States Jake Sullivan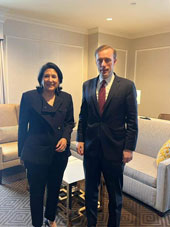 The President of Georgia Salome Zourabichvili met with the National Security Adviser to Joe Biden Jake Sullivan. According to the press release, they talked about recent developments in Georgia and emphasized the common interest of the two countries in Georgia's Euro-Atlantic integration.
They also talked about President Zourabichvili's advocacy of a unified and inclusive approach to achieving reforms, which is necessary for Georgia to get closer to EU membership. The topic of the meeting was also the draft law initiated by the deputies of the People's Power party, which was dropped by the ruling party after protests.
"They also discussed their common concerns about the draft laws, which provide for the registration and stigmatization of civil society organizations for receiving external funding, which may hinder the important activities of hundreds of Georgian non-governmental organizations. They welcome the government's decision to withdraw both draft laws," the statement reads.
According to the information from the White House, it was discussed at the meeting that it is necessary for Russia to feel the weight of the sanctions imposed by the USA and a coalition of more than 30 allies or partners so that Putin is held responsible for the war he started in Ukraine. Sullivan also emphasized that it is necessary that Georgia does not become a way to circumvent or avoid sanctions.
Shalva Papuashvili Says Comparing Georgia's Democracy to Russia's Totalitarian Regime is 'Unacceptable'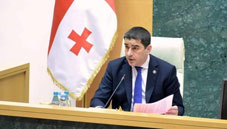 Chairman of the Parliament of Georgia Shalva Papuashvili said that comparing Georgia with Russia is unacceptable and politicians and diplomats should not make such comparisons.
"Any comparison with Russia is absolutely unacceptable and impermissible, it doesn't matter who makes this comparison - a Georgian politician or a foreign diplomat. This should be understood by everyone, including ambassadors.
Comparing Georgia with Russia, a country that has occupied part of Georgia's territory is unacceptable and an insult to the Georgian people. Moreover, this comparison has no basis, because, on the one hand, we are talking about Russia, a country in which there is a totalitarian regime, and we are talking about democratic Georgia. It is impossible not to see it.
I am surprised that such comparisons are made. Comparing Georgia with Russia is unacceptable and the Georgian people will not accept it. It is impossible to compare a totalitarian regime with a democratic regime," Shalva Papuashvili said.
Shalva Papuashvili expressed hope that diplomats will avoid comparing Georgian politicians, authorities, or the country with Russia.