The News in Brief
Friday, March 24, 2023
Prepared by Messenger Staff
Public Defender Levan Ioseliani Says Returning Mikheil Saakashvili to Prison Hospital May Damage his Health Further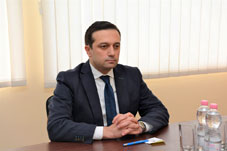 Public defender Levan Ioseliani spoke to the media about the statement issued by the Vivamed clinic about Mikheil Saakashvili in which the clinic stated that they are 'forced' to contact the penitentiary service to assess the feasibility of Mikheil Saakashvili's delay in the clinic.
He said that returning to the prison hospital may be dangerous for Mikheil Saakashvili's health. However, he noted that he does not know if this statement means that the Penitentiary Service will return Saakashvili to prison.
"I don't know whether the statement implies his return to prison or not, maybe we are talking about transferring him to another civilian clinic. As far as I know, the Public Defender stated that returning to the prison hospital could be dangerous for his health. According to my information, the members of the Council agree. I share the position that the public defender had toward Mikheil Saakashvili. I don't want any type of action to be taken against him that could aggravate or worsen his health condition. In which clinic Saakashvili will be transferred is not our prerogative," he said.
Levan Ioseliani said that the group of the Public Defender's Consilium will have complete freedom regarding visiting Mikheil Saakashvili in clinic Vivamed and said that Consilium will visit him in the near future. Ioseliani also plans to visit Mikheil Saakashvili.
Kelly Degnan Responds to Gharibashvili, Says Information in State Department's Report Verified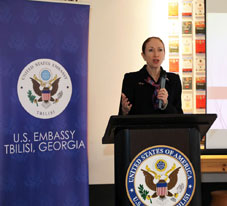 US Ambassador to Georgia Kelly Degnan told reporters that the issues included in the reports of the State Department of the United States of America have been verified many times.
On March 20, 2022, the US State Department published a report on human rights which also covers the situation in Georgia on which Prime Minister Irakli Gharibashvili commented and said the State Department relies on 'unfair' and 'subjective' conclusions provided by elite non-governmental organizations in this report.
"The US has been reporting on human rights for decades. They are about problems, not political parties or personalities. Their material is obtained from a range of reliable sources, and we check and recheck them to ensure that the information in the report is reliable.
These reports are important and I would encourage people to read the previous reports because they chronicle the areas where progress was needed and often the areas where progress has actually been made," Kelly Degnan said.