The News in Brief
Tuesday, April 4, 2023
Prepared by Messenger Staff
President Salome Zourabichvili Meets with President of Lithuania Gitanas Nauseda in Vilnius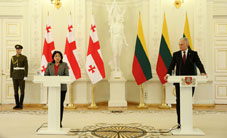 President of Georgia Salome Zourabichvili within the framework of an official visit to Lithuania met the President of Lithuania Gitanas Nauseda in Vilnius. After the meeting, the presidents made joint statements to the media.
The President of Lithuania said that Lithuania supports Georgia's Euro-Atlantic aspirations.
"Lithuania and its people support the European and Euro-Atlantic integration of Georgia. At the meeting, we had the opportunity to discuss in detail the prospects in the fields of bilateral cooperation between Lithuania and Georgia - a political dialogue between the countries, support for European integration, institutional and departmental cooperation.
Congratulations, President, to you and your people for giving a European perspective last year. We sincerely wish Georgia success in achieving its goal and becoming a member of the European Union.
The path of European integration is the path of transformation of the country, these are clear and tangible reforms that benefit the citizens and the well-being of the country.
Politically motivated cases, pressure on the media and the non-governmental sector are not the way to strengthen democracy and citizens' accountability," Gitanas Nauseda said.
President Nauseda said that Russia is still continuing a destructive war that destabilizes both the region and the world and also noted that it is important to impose sanctions on the aggressor.
Ministry of Economy to Present Bill to Insure Food Prices, PM Gharibashvili says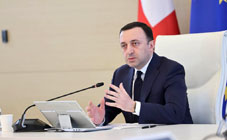 According to Prime Minister Irakli Gharibashvili, the government continues to work to reduce food prices, and in this regard, the Ministry of Economy plans to submit a bill to the Parliament.
"We reduced the prices of medicine by 60-70-80%, we also introduced reference prices, and our people had a total saving of 200 million GEL last year. Also, as you know, we started working with importers to reduce fuel prices, we had successful negotiations and fuel prices have also been reduced. This, of course, played its role, and the third direction is food prices, which certainly worries our population, our people.
We had successful negotiations in this direction as well, in the first stage. Now, the Ministry of Economy will present a draft law very soon, we will make sure from this, by adopting this law, that there are fair rules in the market, and all this will be reflected in reduced inflation. We have 5.3% inflation today, which is certainly very gratifying," the Prime Minister said at the government meeting.