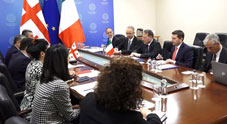 Political consultations between Georgia and the Republic of Italy were held at the Ministry of Foreign Affairs.
(more)
Ambassador of China to Georgia, Zhou Qian, told journalists that China respects the sovereignty and territorial integrity of Georgia and welcomes the Georgian government's peaceful approach to political issues related to territorial integrity of the country.
(more)
"NATO to Continue Supporting Partner Countries Pressured by Russia, Jens Stoltenberg says"
(more)
In Georgia, there was a generous response to the statement of the President of the European Council, Charles Michel, that the negotiations on the accession of Moldova, Ukraine and Georgia to the European Union should begin by the end of the year.
(more)