The News in Brief
Tuesday, April 11, 2023
Prepared by Messenger Staff
Supreme Court Chairman Nino Kadagidze Supports Four Judges Sanctioned by US State Department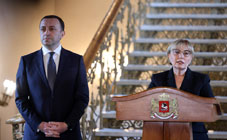 Chairman of the Supreme Court and Chairman of the Supreme Council of Justice, Nino Kadagidze, stated at the joint press conference with the Prime Minister Irakli Gharibashvii that she supports the four judges sanctioned by the US State Department for alleged corruption.
"Therefore, I cannot accept a single statement about the existence of corruption in the court. Despite my personal request, I have not been provided with any substantiated evidence, even assumptions and hints as to what has become the basis for accusing my colleagues of corruption. Therefore, I fully support them. I, as the Chairman of the Supreme Court and the Chairman of the Council of Justice, will be the guarantor of their and each of our judges' inviolability and freedom," Kadagidze said.
According to her, even beyond the specified 12 recommendations, the Georgian judiciary system is ahead of many friendly and neighboring countries.
Kadagidze stated that "mistakes can happen to everyone", and for this reason she is waiting for the decision to be reviewed.
President Salome Zourabichvili Meets with Foreign Minister of North Macedonia Bujar Osmani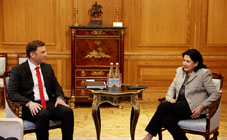 The President of Georgia, Salome Zourabichvili, met with the Minister of Foreign Affairs of North Macedonia and acting Chairman of the OSCE Bujar Osmani and discussed the current events in the region and the situation in the occupied territories of Georgia.
According to the President's administration's press service, the meeting touched on the war in Ukraine as a challenge for the security of the region and Europe, and the importance of peace in the Caucasus region was emphasized.
"The President of Georgia informed the acting chairman of the OSCE about the human rights and humanitarian situation in the occupied territories of Georgia.
The President of Georgia thanked the OSCE for the fruitful cooperation, including the support that the OSCE provides in terms of strengthening democracy and carrying out essential reforms, which is so relevant for the European integration process of Georgia, especially now that the country is waiting for candidacy.
The acting chairman of the OSCE expressed his readiness to further strengthen the support for the country's institutional reforms," the statement reads.