Parliament Chairman Shalva Papuashvili held a meeting with George Vella, the President of the Republic of Malta, as reported by the press service of the Georgian Parliament.
(more)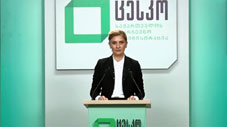 The Central Election Commission of Georgia (CEC) held a briefing yesterday where the press spokesperson stated that an ongoing campaign is attempting to discredit the election administration.
(more)
"Portugal's Defense Minister Discusses Bilateral Cooperation with Georgian Counterpart During Working Visit"
(more)
The public opinion survey published by the International Republican Institute (IRI) on April 25 had great political resonance.
(more)