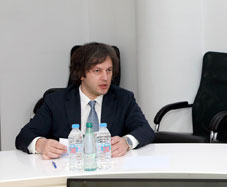 At a briefing, Irakli Kobakhidze, the chairman of the Georgian Dream party, announced that the ruling party has decided to resign from their position as an observer member of the Party of European Socialists and other affiliated organizations.
(more)
Kelly Degnan, the US Ambassador to Georgia, stated that Putin's decision to resume flights and cancel the visa regime for Georgians raises concerns about Russia's intentions towards Georgia.
(more)
"Georgia's Demographic Issues Review Council holds session under Prime Minister Irakli Gharibashvili's leadership"
(more)
The public opinion survey published by the International Republican Institute (IRI) on April 25 had great political resonance.
(more)