The News in Brief
Thursday, May 25, 2023
Prepared by Messenger Staff
Chairman of Georgian Parliament Holds Meeting with NATO's Javier Colomina
According to the press service of the Parliament of Georgia, Chairman Shalva Papuashvili had a meeting with Javier Colomina, the special representative of the North Atlantic Alliance in the Caucasus and Central Asia. During the meeting, Papuashvili expressed his gratitude to the NATO representative for his personal efforts in promoting Georgia's integration into NATO.
The Georgian Parliament chairman discussed the security challenges faced by Georgia and highlighted the significant importance of Georgia's progress toward NATO membership in the current geopolitical situation.
Colomina expressed a positive assessment of the ongoing cooperation between Georgia and NATO. He emphasized that Georgia is a highly valued partner of NATO, and the alliance's commitment to supporting Georgia's territorial integrity remains strong. In their discussion, Shalva Papuashvili provided an update on the implementation progress of the 12 recommendations from the European Union. He expressed optimism and hoped that the European Council would grant Georgia the status of a candidate country by the end of the year.
Colomina acknowledged and welcomed Georgia's advancements in implementing democratic reforms. He assured that NATO will maintain its support for Georgia's efforts.
Foreign Relations Committee Delegation Holds Meetings at the UK House of Commons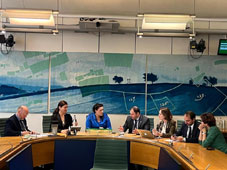 The Chair of the Foreign Relations Committee, Nikoloz Samkharadze, and the Committee members met with the Chair of the Foreign Relations Affairs of the House of Commons, Alicia Kearns; the Chair of the Education Committee, Robin Walker; the Chairman of the British All-Party Parliamentary Friendship Group on Georgia, Jonathan Djanogly and the Group members.
During a meeting with Mme. Kearns, the focus was on strengthening bilateral relations and cooperation in defense and security. Both parties emphasized the importance of the strategic partnership and discussed intensifying the parliamentary dimension of the Wardrop Strategic Dialogue. Regional security, the threat from Russia, NATO enlargement, and Great Britain's support for Georgia's EU integration path were also discussed. They agreed to schedule an official visit of the Foreign Affairs Delegation to Georgia within a year.
In another meeting, Georgian MPs discussed school, vocational, and higher education with the Chair of the Education Committee. They emphasized the digitalization of education and the development of e-systems in the sector. Sharing experiences in this field was deemed important. Georgian MPs also presented projects and plans, including the adoption of the Education Code, expanding vocational education, and internationalizing the higher education system.
Furthermore, a meeting took place with Mr. Djanogly, who heads the Friendship Group with Georgia, and the Group members. The key topics of discussion included bilateral agenda items, security challenges, EU membership, the regional and neighborhood context, and the Russian aggression in Ukraine.