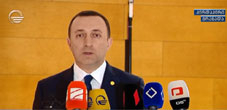 Prime Minister Irakli Gharibashvili spoke to journalists about his participation in the third summit of the European Political Union (EPC) in the Spanish city of Granada.
(more)
Russia is planning to establish a new permanent military and naval base in the occupied region of Abkhazia, along the Black Sea coast.
(more)
"Constitutional Court Completes Review of Georgian Dream Submission on President's Alleged Constitution Violation"
(more)
Today's Georgian politics is a strange mixture of acute topics. One such issue was voiced by Mtavari Arkhi.
(more)