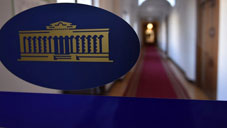 Deputy Teona Akubardia, along with members of the political group "For Georgia" including Ana Buchukuri and Mikheil Daushvili, are calling for the adoption of a resolution addressing the establishment of a permanent Russian naval base in the Russian-occupied Georgian region of Abkhazia.
(more)

The NATO Parliamentary Assembly approved several resolutions at the meeting held in Copenhagen.
(more)
"President Zourabichvili Urges Georgian Airways to Keep Flight Prices Reasonable and Assist Georgian Citizens in Difficult Times"
(more)
The impeachment process of President Salome Zurabishvili has become the main topic of Georgian politics and is widely discussed in the media and political spectrum.
(more)