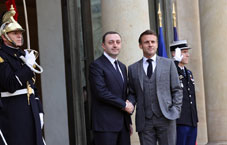 Irakli Gharibashvili, the Prime Minister of Georgia, was hosted by the President of France, Emmanuel Macron, at the Elysée Palace.
(more)
Regarding the potential disappearance of Russian activist Rafael Shepelev in Georgia, the Ministry of Internal Affairs has stated that he crossed the occupation line willingly.
(more)
"Georgian Citizen Abducted by Russian Occupation Forces Released"
(more)
Last month, on October 18, 2023, a historic session of the Parliament of Georgia took place.
(more)