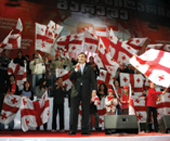 Incumbent Mikheil Saakashvili is expected to have won the presidential election with about 53 percent of the vote, according to the latest vote count from the Central Election Commission.
(more)

As the Central Election Commission chairman affirmed that incumbent Mikheil Saakashvili was on his way to an outright victory, the main opposition parties vowed to contest the results as rigged.
(more)
On January 6, acting president Nino Burjanadze pardoned two former officials of the Eduard Shevardnadze government imprisoned after the Rose Revolution.
(more)