The US secretary of state reiterated her government's support for Georgia's NATO bid yesterday, the same day ten NATO members issued a joint letter calling for Georgia to be given a Membership Action Plan (MAP) at the upcoming Bucharest summit.
(more)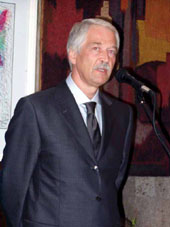 On the eve of a Russian Duma vote on a resolution calling for more support for Georgia's separatist regions, the Georgian parliamentary speaker cautioned Russian MPs to show reason at today's session.
(more)
When prominent Georgian billionaire and founder of Imedi TV Badri Patarkatsishvili died suddenly last month, former Imedi anchor Giorgi Targamadze commented the television station's future is "even more unclear than it was before." Developments since then have proved his prediction correct.
(more)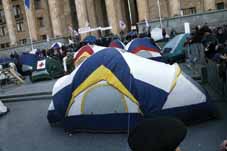 The Patriarch urged opposition campaigners, nearly two weeks into a hunger strike outside parliament, to call off the protest yesterday. Opposition leaders say they will end the hunger strike if the government compromises on electoral reform.
(more)
Nearly 70 hunger strikers are camped on the steps of parliament thirteen days into the opposition demonstration, and at least eight have been taken away for medical aid.
(more)