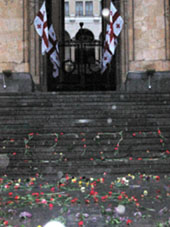 Georgians observed a day of national unity yesterday, bringing flowers to the steps of parliament in remembrance of the killing of Georgian pro-independence demonstrators 19 years ago in Tbilisi.
(more)
Yesterday Foreign Minister Davit Bakradze criticized as "extremely alarming" the recent remarks of his Russian counterpart, Sergey Lavrov, who said Moscow would do its utmost to prevent Georgia from joining NATO.
(more)
Three election blocs and nine individual parties are set to run in May's parliamentary elections, alliances becoming clear yesterday as parties registered their formations with the Central Election Commission.
(more)
"To see street signs in both Georgian and English would be a great improvement".
(more)