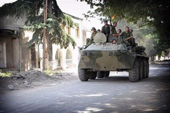 A Georgian policeman was shot and killed near the administrative border with the Georgian breakaway province of Abkhazia on November 15.
(more)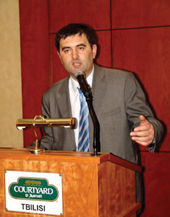 Sozar Subari, the Georgian Public Defender slammed the authorities on Friday for exercising total control over nationwide television stations
(more)
A Georgian Church delegation gave a press conference concerning the Georgian and Russian Churches' role in postwar conflict
(more)
According to an agreement assigned on November 14, Georgia will receive gas from Azerbaijan, without any hindrance, for the next five years.
(more)
"Georgia should not break off diplomatic relations with Russia – Shevardnadze "
(more)
Q&A
Do you think that Georgian TV stations were used as propaganda tools during the Russian-Georgian conflict?
Exchange Rates
US Dollar - 1.6500
Euro - 2.0975
Pound Sterling - 2.4585
Russian Ruble - 0.0604
Swiss Franc - 1.3891