"I will do more for the country by my resignation." Prime Minister Bidzina Ivanishvili said at a meeting with chief editors of the print media and radio stations on October 17th.
(more)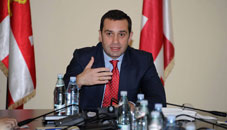 The final assessment of the enquiry commission investigating combat operations in Georgia from the 1990s till 2008 will not be made public this year.
(more)
"New details revealed in Zhvania case"
(more)