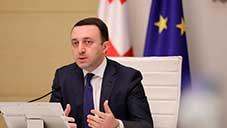 Inflation, as well as rising prices, is a challenge around the world and naturally, Georgia cannot be an exception, Prime Minister Irakli Garibashvili announced in response to protests in Georgia over rising fuel costs.
(more)
The chairman of the ruling Georgian Dream party Irakli Kobakhidze announced that the top Ukrainian officials had begun to speak openly about opening a second front in Georgia and ending the ongoing war in Ukraine after the UNM's next visit to Ukraine.
(more)
"Prosecutor Law Enforcement agencies to study Saakashvili's Call for 'Overthrowing the Government', Prosecutor Says "
(more)
In recent days, Georgian media and politicians have been talking about the possibility of Georgia's neutrality.
(more)