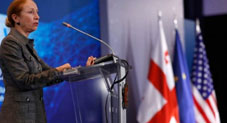 US ambassador to Georgia, H.E. Kelly Degnan has stated that there is a "confusing message" coming from the Georgian authorities.
(more)
Executive Secretary of "Georgian Dream" Mamuka Mdinaradze commented on Kelly Degnan's statement regarding de-oligarchization and called on the US Ambassador to Georgia to be more specific and clarify, ...
(more)
"Shalva Papuashvili meets with newly appointed director of USAID John Pennell"
(more)
The opposition threatened the government with a "hot autumn" full of mass demonstrations, but the autumn has already arrived and there are no announced protests.
(more)