"Transparency International - Georgia" published the assessment of the anti-corruption bill of the majority.
(more)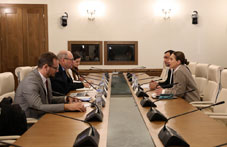 "United National Movement" faction chairman, Khatia Dekanoidze and deputy chairman of the faction, Levan Bezhashvili met with representatives of the Office of Democratic Institutions and Human Rights (ODIHR).
(more)
"Sergey Lavrov promises occupied South Ossetia to maintain 'peace' with help of Russian military base"
(more)
On October 18, in the first reading, the Parliament of Georgia supported the constitutional amendment project regarding the new procedure for electing the Prosecutor General
(more)