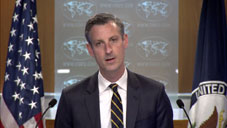 According to the Spokesperson for the United States Department Ned Price, Washington is concerned about the "foreign agents" bill.
(more)
The former Assistant Secretary of State of the USA, David Kramer, in an interview with the Voice of America, stated that the Russian law may harm Georgia's goal of becoming a member of the European Union.
(more)
"Young European Ambassadors in Georgia Issue Statement Regarding 'Foreign Agents' Bill"
(more)
In the Russia-Ukraine war, the government of Georgia pursues an extremely loyal policy towards Russia, and Moscow is preparing for the annexation of the occupied territories of Georgia.
(more)