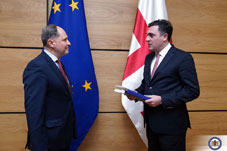 The Minister of Foreign Affairs of Georgia, Ilia Darchiashvili, handed over a report prepared for the European Commission to the Ambassador of the European Union in Georgia, Pawel Herczynski.
(more)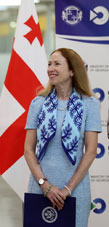 US Ambassador to Georgia Kelly Degnan stated to reporters that the creation of a temporary investigative commission on the court presents an opportunity for the Georgian authorities to look into long-standing allegations of corruption within the court system.
(more)
"Parliament of Georgia Fails to Reach Quorum for Vote on Investigative Commission for Sanctioned Judge Again"
(more)
Based on its sources in Brussels, "Radio Liberty" reported that the European Commission is ready to issue a recommendation for Georgia's status as a candidate for EU membership in October 2023.
(more)