The Georgian parliament refrained from an immediate response after the Duma, in a March 21 resolution, advised the Russian government to consider recognizing the independence of two secessionist Georgian regions.
(more)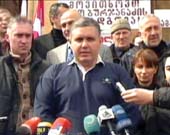 The opposition will end their hunger strike if the government agrees to change the parliamentary electoral system, opposition coalition representatives said on March 20, two days before hunger strikers were put in "quarantine" citing health concerns from weakened immune systems.
(more)
Parliamentary elections are now penciled in for May 26, but is anyone running?
(more)