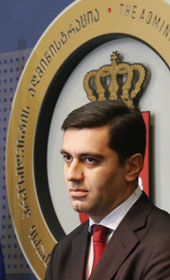 Ex-defense minister Irakli Okruashvili has won political asylum in France, his lawyers confirmed yesterday.
(more)
Tbilisi downplayed expectations of a UN Security Council meeting on the situation in Abkhazia yesterday, but emphasized that Georgia has international support for its objections to Russian action in the breakaway region.
(more)
A high-profile lawyer was detained overnight on April 21 on drug charges, but his allies claim political motivations for the arrest.
(more)