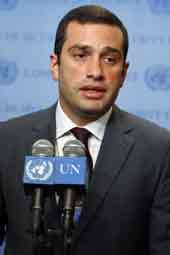 Tbilisi claimed a diplomatic victory in the closed-door UN Security Council session on July 21, as Russia criticized the "pro-Georgian" stance of council members.
(more)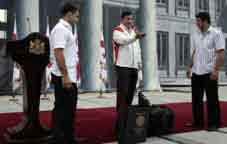 "If I were you, I would think more about winning as the Georgian government has made a decision to give one million lari as a prize to each gold medal winner," the Georgian president told the country's Olympic athletes on July 21. "An extra million wouldn't hurt anyone."
(more)
The country's top minister for conflict issues picked up an additional title yesterday in a move aimed at easing negotiations with separatists in Georgia's breakaway regions.
(more)
Labor leader presents European court decision to diplomats
(more)