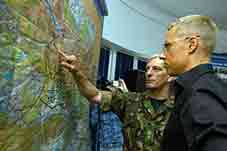 Finnish Foreign Minister and OSCE Chairman-in-office Alexander Stubb once again visited Georgia yesterday to negotiate an additional OSCE peacekeeper presence in South Ossetia and monitor the pullout of Russian forces.
(more)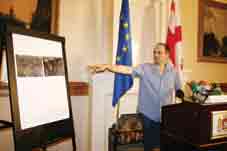 Human Rights Watch held a press conference on August 21 which outlined instances of unexploded ordnance left by Russian attacks on Georgian land.
(more)
Mindorashvili is Olympic Champion
(more)
It should be clear to everyone that by attacking Georgia Russia did not mean to solve local problems only and assist the Abkhazians or South Ossetians. Moscow has a much bigger plan - to revive the might and importance of the old Soviet empire. Who is next, ask the commentators, Ukraine or Azerbaijan?
(more)
Since the Russian invasion and the bombing of Georgia, journalists and pundits from all over the world have been covering these events. Everyone has an opinion and an analysis, be it the long term expert or the weekend reporter who has been sent to Georgia from the other side of the world.
(more)
"Russia failed in its plans to capture Tbilisi"
(more)