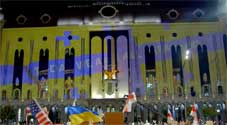 "For Ukraine and our freedom" - this is the name of a rally in support of Ukraine in front of the parliament in Tbilisi.
(more)
IMF mission chief James John announced on Friday that Georgia and the International Monetary Fund (IMF) have reached a deal on a $289 million program for the macroeconomic and financial stability of the country.
(more)
"Georgia to Not Join Economic Sanctions Against Russia, PM Gharibashvili Says"
(more)
In recent days, Georgian media and politicians have been talking about the possibility of Georgia's neutrality.
(more)