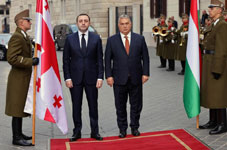 The Prime Minister of Georgia Irakli Gharbiashvili along with the government delegation arrived in Hungary for an official visit.
(more)
The Ambassador of the European Union to Georgia, Pawel Herczynski, when asked how Georgia is fulfilling the 12 recommendations issued by the EU for Georgia's EU membership candidacy so far, said that it is too early to talk about the progress.
(more)
"MFA Minister Darchiashvili evaluates PM Gharibashvilis visit to Hungary"
(more)
On October 18, in the first reading, the Parliament of Georgia supported the constitutional amendment project regarding the new procedure for electing the Prosecutor General
(more)