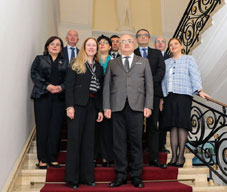 On April 20, US Ambassador Kelly Degnan visited the Constitutional Court of Georgia in Batumi and met with the judges.
(more)
Due to a lack of quorum, the voting on the issue of creating a temporary investigative commission regarding the court could not take place on April 20, marking the third day in a row.
(more)
"Minister of Justice of Georgia Holds Farewell Meeting with UNICEF Representative Ghassan Khalil"
(more)
Based on its sources in Brussels, "Radio Liberty" reported that the European Commission is ready to issue a recommendation for Georgia's status as a candidate for EU membership in October 2023.
(more)