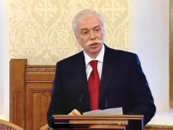 Business tycoon Badri Patarkatsishvili is charged with conspiracy to overthrow the state, the Prosecutor General's Office announced yesterday.
(more)
The state-owned public broadcaster interviewed live an opposition coalition leader, who detailed his bloc's allegations of vote fraud and media bias in a combative back-and-forth with the station's journalists.
(more)
Former defense minister Irakli Okruashvili, who was arrested at the end of November in Berlin at the request of the Georgian Prosecutor's Office, was transferred to France on January 9, where he remains in custody.
(more)