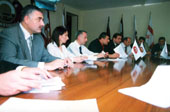 The New Rights party will run with the eight-party opposition coalition in the upcoming parliamentary elections, coalition representatives said at a press briefing outside parliament yesterday.
(more)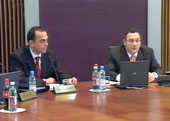 The chairman of the Adjaran government unexpectedly lambasted the central government yesterday, particularly the Finance Ministry, for contributing to unemployment in his region.
(more)
The dust is just subsiding from a flap over an apparent slip by the prime minister, who suggested that Georgia will recognize the sovereignty of Kosovo.
(more)