Yesterday Russia accused Georgia of violating an Abkhazian peace treaty by operating surveillance drone flights above the breakaway region, following the downing of an unmanned Georgian aircraft over the weekend.
(more)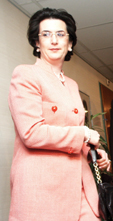 Speaker of Parliament Nino Burjanadze's decision to part ways with the ruling party next month has led opposition politicians to speak of a deep internal struggle in a weakened government.
(more)
With just under a month until the parliamentary elections, politicians are now campaigning in earnest.
(more)