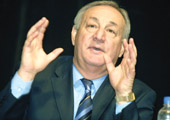 Leaders of breakaway Abkhazia denied reports of a peace deal with Tbilisi which would guarantee safe return for refugees in exchange for a Georgian pledge not to use force in the region.
(more)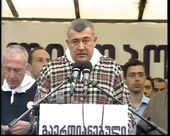 At a rally days before tomorrow's parliamentary elections, the nine-party opposition coalition called on supporters to gather after polls close to greet—and possibly challenge—the results.
(more)
President Mikheil Saakashvili touted the government's economic achievements and promised Georgians a more prosperous life while meeting workers at an aircraft factory over the weekend.
(more)